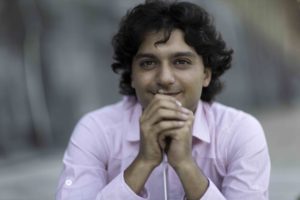 German by adoption, the young Iranian conductor Hossein Pishkar has entered a new and significant phase when in 2017 he won the prestigious Deutscher Dirigentenpreis in an international competition staged in cooperation with Cologne's leading musical institutions and Westdeutscher Rundfunk (WDR). In the same year he also won the Ernst-von-Schuch-Preis, presented annually in collaboration with the Dirigentenforum.
He has also given performances with the Beethoven Orchester Bonn, Düsseldorfer Symphoniker, Orchestra Giovanile Luigi Cherubini, Staatskapelle Halle, Staatsorchester Stuttgart and WDR-Sinfonieorchester. Pishkar also conducted Verdi's Rigoletto, directed by Cristina Mazzavillani Muti, at the Ravenna Festival 2018.
As an assistant he worked with François–Xavier Roth in May 2019, in the production of Philippe Manoury'sLab.Oratorium with the Gürzenich-Orchester and as second conductor he took over performances at the philharmonic halls in Cologne and Paris, as well as at the Elbphilharmonie in Hamburg. Hossein Pishkar was an assistant of Sylvain Cambreling at the Junge Deutsche Philharmonie for Berg's Lulu Suite and Rebecca Saunders' violin concerto Still. In the season 2015-16 season he assisted Daniel Raiskin, the former Chief Conductor of the Staatsorchester Rheinische Philharmonie in Koblenz.
Hossein Pishkar has received further tuition in masterclasses with Riccardo Muti (2017, Aida in Ravenna in the context of the Italian Opera Academy) and Sir Bernard Haitink (2016, Lucerne Festival Orchestra). Since 2015 he has participated in Germany's prestigious Dirigentenforum programme, taking classes with John Carewe, Marko Letonja, Nicolás Pasquet, Mark Stringer and Johannes Schlaefli.
Before moving to Düsseldorf in 2012 to study conducting with Rüdiger Bohn at the Robert Schumann Hochschule, Hossein Pishkar studied composition and piano in Teheran, where he was born in 1988. In Iran he has conducted the Teheran Youth Orchestra and the Orchestra of the Teheran Music School. He began playing traditional Persian music as a young child and has won many prizes as a player of the tar, the fretted stringed instrument of Persian culture.
Since 2019 he has embraced the project of starting a new orchestra, the Vittorio Calamani Philharmonic Orchestra, of which he is the musical conductor.